MEET THE MULTI-AWARD-WINNING ANTI AGEING AND SKIN EXPERT, DR SARITA SHARMA AS FEATURED ON THE BBC NEWS
It is extremely important in this day and age to choose the right person to provide you with any skin medical enhancement procedure in order to keep you safe and free from any post procedure complications.
The knowledge of anatomy taught both at dental/medical school is extensive and in depth as well as continued post graduate education should comfort you to know that I will place all injections into your face in a safe place avoiding important anatomical features.
Cosmetic injections should be very carefully given in the correct places on your face and they should be administered only by medical professionals who are knowledgable in all considerations of anatomy.
Too often it is publicised in the media about treatments going wrong-this can be due to non-sterile environments, contamination of injection sites, incorrect product choice for the relevant area where enhancement is desired or even incorrect placement. Hence, I appeal to the public to choose your Practioner carefully to avoid any unwanted side effects/post procedural problems.
Be weary of treatments that are offered as an immediate quick cheap fix and post treatment follow ups should be an important choice decision. Your Practioner should know how to avoid such problems or know how to address and treat any such problems should they rarely occur.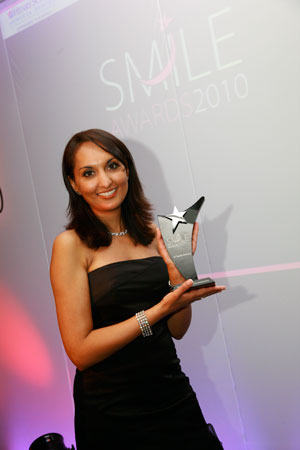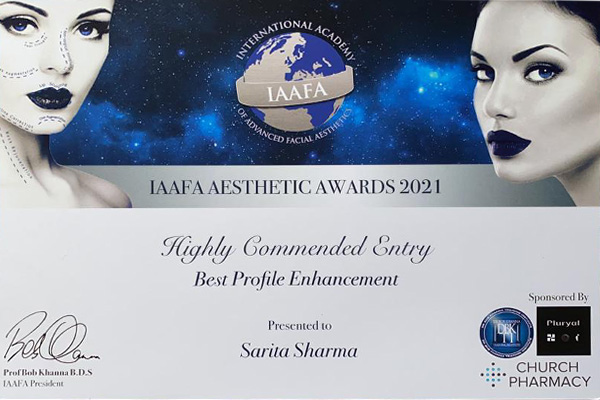 I qualified as a dentist from Kings College London in 1998, after which I carried out further hospital training in Oral Surgery at St Georges Hospital and Restorative Dentistry at Kings College Hospital, gaining valuable experience in removing wisdom teeth, oral surgery procedures and complex dental cases.
My dedication to provide excellence led me to study from the leading experts both in the UK and internationally.
My passion for facial aesthetics commenced in 2004 when I complemented and completed all my aesthetic dental cases with Botulinum toxin and Dermal Fillers.
I completed all levels of training and certification to Masterclass level in both advanced techniques of Botulinum Toxin and Dermal Filler treatments in 2004-5 and have since treated 1000's of patients, regularly updating my training and committed to staying abreast of the knowledge in this field.
1 am also just as experienced and knowledgeable in providing treatments for non -surgical face lifts; brow lifts; facial profile enhancement; skin tightening; micro needling; peels; microdermabrasion; treating skin conditions for anti-ageing, pigmentation problems, rosacea (redness), acne, skin textural problems, psoriasis, eczema; teeth whitening; teeth grinding; jaw and dental problems.
In 2010, I was awarded with a Smile Award for recognition of facial aesthetic cases by the International Academy for Advanced Facial Aesthetics which is a professional organisation that unites professional doctors, dentists, dermatologists, plastic surgeons and registered nurses to share a diverse wealth of knowledge and expertise in the field of facial aesthetics in order to enhance and regulate patient care.
"I firmly believe that commitment to training is of paramount importance in providing the best outcome for patients"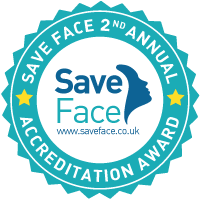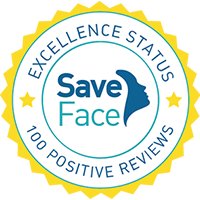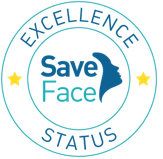 My standards and quality of care has achieved excellence status with Save Face after thorough inspection and rigorous assessment. This can add extra assurance to you that you are in safe hands.
Save Face is a national register of Accredited practitioners who provide non-surgical cosmetic treatments such as anti-wrinkle injections and dermal fillers. 
 The register is accredited by Professional Standards Authority and is recognised by the Government, The Department of Health, NHS England and The Care Quality Commission.
www.saveface.co.uk
I firmly believe that commitment to training is of paramount importance in providing the best outcome for patients. I have great pleasure in looking after our lovely patients and nothing gives me more satisfaction then seeing my patients delighted once treatment is complete. My passion and experience is reflected in the commitment of the quality of results I deliver to my satisfied patients.
I am devoted to life long learning and continuously update my professional and personal development both in the U.K. and abroad. My drive, ambition and energy means I strive for constant and never ending improvement
I have a deep passion for facial aesthetics and really enjoy what I do. When treating patients, I look for the natural beauty within people and try to extenuate it and enhance it for the natural look. I aspire to produce great results and really listen to what my patients require to help them look and feel their best. I am priveleged to have been awarded a Smile Award in the aesthetic industry for recognition in Non-Surgical Facial Aesthetics.
I have had over 15 years experience in this field and passionately provide these treatments in a natural way for you to look like you but a more refreshed, rested version of yourself so that it is left to your discretion should you wish to disclose having had any facial enhancement or otherwise.
I will take time with you educating you about the correct treatment choices for you as well as listening to what it is that you desire. There is no one treatment approach for all-i personally decide and approach your treatment that is individual and personal to you in a caring and comfortable manner for you.
My ethos is simple: desire to be the best, do the best, be the best, achieve the best for the patient and never compromise on quality, care and standards. Treat others how you would like to be treated yourself.
I am motivated to providing outstanding care of all aspects to my patients. I am happily married and blessed to have to our beautiful boy and gorgeous girl, to whom I thoroughly enjoy being a hands-on mum. In my spare time, I enjoy reading and travelling.
Dr Sarita Sharma (GDC Registered: 74880)
My intention is to guide my patients along a path of optimal health and wellness for life. To non-judgementally deliver the highest possible level of care with empathy and understanding. To continually pursue excellence through continuing education, personal and team growth and mastery of leading edge technology. To treat my patients as individuals with bespoke treatment care in our traditional, beautiful Grade II listed building.
"I AM PASSIONATE ABOUT DELIVERING CONSISTENTLY EXCEPTIONAL QUALITY CARE WITH HIGH STANDARDS OF PROFESSIONALISM AND A 5 STAR VIP EXPERIENCE, COMMITTED TO MEETING THE OUTCOMES OF THOSE WHO DESIRE MY SERVICES FOR FACIAL AESTHETICS AND SKIN CARE IN MY CENTRE OF EXCELLENCE AND LUXURY, KEEPING YOU LOOKING AND FEELING GREAT WITH HEALTHY SKIN"
To deliver this care with first-class, five-star service.
To respect my patients' time.
To accept my patients as partners in their wellness.
To assume a leadership role as a resource– a window of information with concern for my patients' overall well-being.
To consistently deliver more than would reasonably be expected.
I have dedicated my professional life to give my patients a unique and very comfortable experience using the latest products and technology.
At Essex Sanctuary, I am committed to providing the best quality of care and results for you offering a range of premium services at an affordable cost in a relaxed, boutique, luxurious environment.
I understand that for individuals, beauty is in the eye of the beholder. That's why here at Essex Sanctuary, I offer a synergy of medicine and beauty facial treatments to enhance the natural look and feel of your skin giving you the most desirable results in a safe and
very comfortable manner. Such treatments include wrinkle removing/facial lines softening injections to tighten and improve the appearance of skin; dermal fillers to lift, tighten and volumise the face and several other non injectable enhancing treatments (dermapen, radiofrequency, mesotherapy, thavma therapy, chemical peels, diamond peel microdermabrasion ) to improve the texture, appearance and quality of your skin, leaving you feeling and looking more confident and radiant.
In conjunction with my treatments or as an alternative alone, I offer science proven skincare products providing you with benefits of active dermatological ingredients which work to their maximum potential at all depths of your skin.
The treatments are suitable for both men and women and a professional, confidential and bespoke approach to your care for any aesthetic treatment is adopted at all times.
Botulinum Toxin (Botox)
Derma Fillers
Dermapen
Chemical Peels
Teeth Whitening
Diamond Peel Microdermabrasion
Radio Frequency Skin Tightening
Excessive Sweating
Eye Treatments
Mesotherapy
Thavma Therapy
ZO skincare