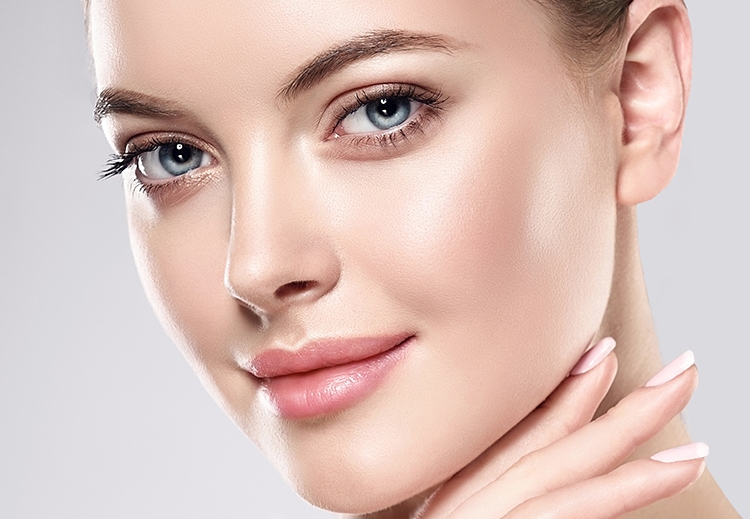 Book Your Facial Line Treatment Appointment Today
There are many options to help with improving the appearance and reducing the depth of undesirable facial lines including improving the skin texture, consitutuency of skin, relaxing muscles under the skin that are causing the skin to crease, filling out lost skin structure and volume underneath the skin.
A full consultation prior to any treatment booked will ensure that all options are discussed with you fully and the most suitable option for your desired outcome is carried out
Facial muscle relaxing treatments are used to relax hyperactive muscles in the face. In medicine, they have been safely and effectively used for the treatment of strabismus (cross eye) and blepharospasm (uncontrolled blinking) since the early eighties and cosmetically for relaxing muscles of facial expression, thereby softening the appearance of lines formed on the overlying skin giving a more youthful appearance.
Anti-ageing and anti wrinkle injections in Essex are carried out by medically trained doctors.
What are the benefits of Facial Lines Muscle relaxing treatment?
It can soften the lines of ageing and over expressive facial muscles
In the right experienced hands, it is safe and natural
It is a quick, non-invasive and painless treatment
Dramatic effects are attained in days
There is no surgery involved and hence no scars and downtime
It can also help to unlearn the habits of e.g. frowning or squinting that originally led to the development of these lines
It is not reversible
Is suitable for both men and women
It is affordable
No anaesthesia is required
How does the treatment help?
Hyperactivity of facial expression muscles can often result in facial lines that can make people look old, angry, tired, worried or displeased.
Facial line treatments can be carried out to help soften the appearance of such lines and thus result in a more natural, refreshed appearance.
Booking a consultation can help you make the right treatment decision to choose the best option available to help you achieve your skin desire
When patients come to us, we carefully consider the best course of treatment and chose the specific locations that would give them amazing results.  You can see for yourself below how effective their results are!
Treatment of laughter lines on side of eyes 
Treatment of laughter lines on side of eyes 

Treatment of laughter lines on side of eyes 



Treatment of forehead lines 


Treatment of forehead lines 

Treatment of 'gummy smile' 

Tapering (slimming) of the face


Facial Line Treatment Gift Vouchers
Facial Line Treatment
Gift Vouchers
Now it is even easier to get the perfect gift for someone special; our gift vouchers can be used towards Facial Line Treatments or skin care products, and are available for any monetary value.
For that extra special gift, we can create tailor make gift vouchers for specific Facial Line Treatment where the whole cost is covered, so all the recipient needs to worry about is simply booking on for their treat. Go on and treat your loved ones with our gift voucher options today!
Call 07989 402752‬ or collect from our clinic
Most frequently asked questions
Is Botulinum Toxin for me?
We offer a consultation for the use of anti-wrinkle injections. Botulinum Toxin can help if you have any of the following issues:
Have soft/deep lines or grooves
Want a more youthful and fresher appearance
Are aged between 20-60
Have undesirable facial expression lines
frown/worry lines
bunny lines on nose
laughter lines around eyes
forehead lines
neck lines/bands
high lip line with exposure of unsightly gum
'smokers' lines above upper lip
Have sagging jowels
Have unattractive low eyebrows
Have difficulty applying eye makeup
Want appearance of larger eyes
Have unwanted habits e.g frowning, teeth grinding, squinting
Have undesirable strong, square jaw muscles
Have pain in tense muscles e.g. back, headaches, jaw muscles
Have unattractive chin dimpling and deep line between lip and chin
Have unsightly flared nostrils
Have a droopy nose
Have a droopy mouth
Have a facial asymmetry
Suffer from excessive sweating
When and for how long does Botulinum Toxin work?
After a few painless injections, a normal routine can continue. The initial effects of treatment become visible within 48-72 hours. The maximum effect is reached in about 2-3 weeks. Facial expression will become more relaxed but by no means mask-like. The overall result is very natural and it will help harmonise the face. This relaxed fresher look will stay for 3-4 months initially and can last up to 6 months for some. After this the toxin is metabolised by the body.
How long will the procedure take?
At the initial visit the discussion and examination can take approximately half an hour. Once the injections begin, it's all over in about 10-15 minutes.
Will the injections hurt?
No, I am very experienced and carry out a painless, most gentle technique. I use very fine insulin needles which are tiny micro needles that help make the procedure painless. If anything, most patients compare the sensation to a bug bite or sting. Discomfort is minimal and brief hence no need for anesthesia.
What will I look like after treatment?
The majority of patients will walk out of the treatment room with a few small red dots at the areas that have been injected. This slight redness typically takes about 15 minutes to go away. After that there is no signs to show that anti-wrinkle injections have been administered.
What can I or can't I do after treatment?
A full post op care will be discussed at the appointment. Life can carry on as normal . The treated area should not be touched. Lying down is not advised until 3-4 hours after the treatment and no alcohol or exercise should be taken that day. Then for 7 days post-treatment, no facials/chemical skin peels/laser resurfacing treatments or sun beds are recommended.
Is there anyone who should not have Botulinum Toxin treatments?
Yes, the following people should not have anti-wrinkle injections:
Trying to conceive, pregnant or breast feeding
Have certain blood clotting or muscle disorders
On certain medications, especially certain antibiotics, anaesthetics and muscle relaxants
Have an infection at the proposed injection site
Have an egg allergy
Patient medical history will be discussed at the consultation.
Is it safe?
Yes, when carried out by a highly trained medical professional. Botulinum toxin is available by prescription only and should only be administered by a health care professional. It is a widely known and highly used procedure initially being used medically for the treatment of cross-eye, uncontrollable blinking and perspiration problems in individuals. It has been approved by the FDA for cosmetic use and has been used for over 20 years without any known long term effects. I have been trained by one of the leading experts in facial rejuvenation in the UK and also my thorough training through dentistry allows me to have the excellent standard of knowledge of the anatomy of the head and neck and its musculature minimising the incidence of any significant side effects.
Can I get Botulism from an injection?
No, botulism is caused by very large amounts of toxin entering in the system usually from contaminated foods. The amount given in a typical cosmetic injection is too small to give a healthy patient a Botulism-like illness. Administered by a trained medical professional in the correct amount, there is no need to worry. When drugs are taken by mouth, they are distributed throughout the body by the bloodstream. In contrast, local injections are administered directly into the desired site of action, thus they are not expected to be present in the bloodstream at a measurable level following treatment at the recommended dosage or typically remain in the injected muscle, although some spread to adjacent muscles may occur.
Is Botulinum Toxin for me?
Non-surgical facial aesthetic options are by far cheaper and more cost effective than a surgical approach. The anti-wrinkle injection consultant will discuss finance options prior to having any treatment. Consultation visits are free of charge where you will have an opportunity to discuss treatment in detail and address any queries. Please ring 01708853019 to arrange for your free consultation appointment.
Non Surgical Wrinkle Treatments – Let's face facts, growing old is a part of life. However, another fact now is that there is no need to look old any more. In this image conscious world, the necessity and demand for facial rejuvenation techniques is on the increase to give nature a helping hand. Many of us would like to improve or enhance our appearance but either don't have the time, money or the inclination to have cosmetic surgery. Fortunately, anti-wrinkle injections and dermal fillers, when administered by a professional can boost your looks without the surgery, scars or recovery period and most enticing of all, without the huge price. Anti-wrinkle injections and facial dermal fillers can dramatically soften facial expression lines and wrinkles allowing you to enjoy a more youthful appearance whilst maintaining a natural expression. We advise you to discuss your desires with our resident facial rejuvenation expert so that the optimum result can be attained for you. Sarita is highly trained in this field having attended master classes and has been taught by one of the best in the country. She also assists other doctors and dentists in their training and her experience is reflected in the quality of the results that she gives to her delighted patients. Could this be what you've been looking for? Why miss out on the chance to regain or even retain your youthful appearance. Arrange for a free consultation where full consideration will be given to your medical history, desires and requirements. Leave people guessing your age!!
Which areas can Botulinum Toxin work on?
The treatment is commonly used on the frown lines between the eyebrows, and other facial areas. Book a consultation for a consultation on treatment for fine lines and wrinkles.
What is involved in the procedure?
The first step is to have a consultation for anti-wrinkle injections. The procedure is a simple non-surgical process involving a few tiny injections and there's no recovery time. No anaesthesia is required and normal activity can resume almost immediately. A small amount of toxin is injected precisely into specific locations in the muscles. I will also take photographs before and after the treatment.
Will I feel numb?
No. There is no sensation change to the skin. Some patients describe a sensation of tightening. It is recommended not to touch the treated areas for a minimum of 4 hours.
Will I look natural?
Yes. My knowledge, experience and training allows me to keep results natural. I minimise any loss of natural facial expression by injecting specific muscles responsible for wrinkling only. I will design your treatment plan specific to your needs. The 'frozen, expressionless' look that is undesirable for many is a sign of inexperience and over treatment. This is where experience and knowledge counts and I have many years of expertise. I assist in the training of fellow medical professionals in the techniques that enable the natural effect to be achieved.
What will happen to my lines if I choose not to continue with treatments in the future?
Nothing. Facial muscles will continue to move in the same way that they did before, and moderate-severe lines will gradually look like they did before treatment. The effects of ageing will continue with time as normal, but won't look any worse if the decision is made not to have further treatment.
Is it true that Botulinum Toxin treatment lasts longer the more you have it done?
Yes, for most people. Regular treatments initially every 3-4 months then the muscles will not work as hard as before. Thus, longer periods can be taken between re-treatment and have less need for treatment eventually in the future.
Can I have injections if I have a cold?
Yes, a cold will not affect the results of the injections, nor will the injections have adverse effects on a cold.
Can anyone inject me?
No. It is extremely important to do research. Since Botulinum Toxin treatment is becoming more popular and in demand, more and more non-medical therapists are offering treatment and so it is vitally important to check the credentials of the treatment provider to ensure that they are:
suitably qualified medical professional with a high standard of training from a recognised training institute
have professional/cosmetic insurance
have a thorough knowledge of the face and neck
have an experience of injecting
have a sterile and private treatment room
offer you a full consultation before treatment
can demonstrate before and after photographs of their results
Are there any major side effects?
No, side effects are rare. There can be slight bruising at injection sites and some have reported to have headaches and slight nausea after treatment. Very rarely, there can be temporary drooping of the eyebrow or upper lid but precise and experienced injection technique alongside consideration of after care instructions given reduce the chances of this occurring. In the rare instance that this does occur, since Botulinum toxin is reversible, the effects are temporary and last for only a couple of weeks.